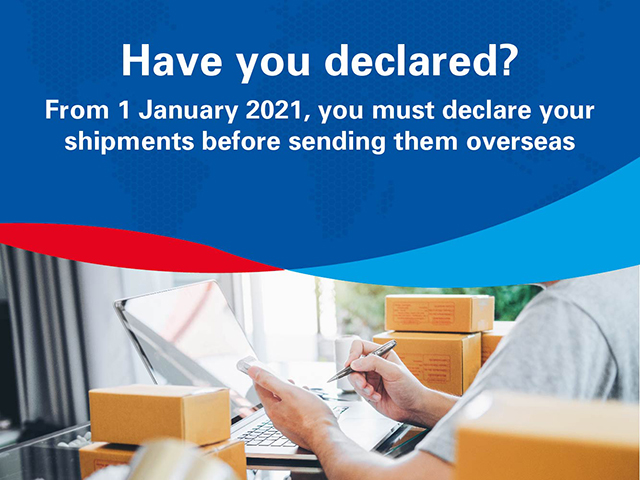 From 1 January 2021, declaration is mandatory for the following:
Basic Package

International
Ragistared Package

International
The declaration of your shipment details is mandatory for international security and the facilitation of customs clearance at the destination country. This is a global requirement for all postal operators, including SingPost, to collect postal data electronically for this purpose. Packages or parcels without proper and accurate declaration will result in delays or may be returned to the sender without refund.
To declare your packages and parcels, visit the ezy2ship website before posting.
Easy steps to declare your international shipments via ezy2ship before posting
#Applicable SAM kiosk listings are denoted by "Supports: Pay & Print (ezy2ship label)".
Are you sending multiple international packages at one time? Sign up for a complimentary ezy2ship account and declare your shipment details in bulk using the bulk upload function.
SIGN UP NOW
How to use the bulk upload function?
Locate "New Shipment" and select "Bulk Upload".
Download a template or select the type of template used for your shipment.
Upload the completed template.
Fill in sender's details and proceed to upload the file.
Once the file has been uploaded successfully, you will be able to print your labels after payment is made.