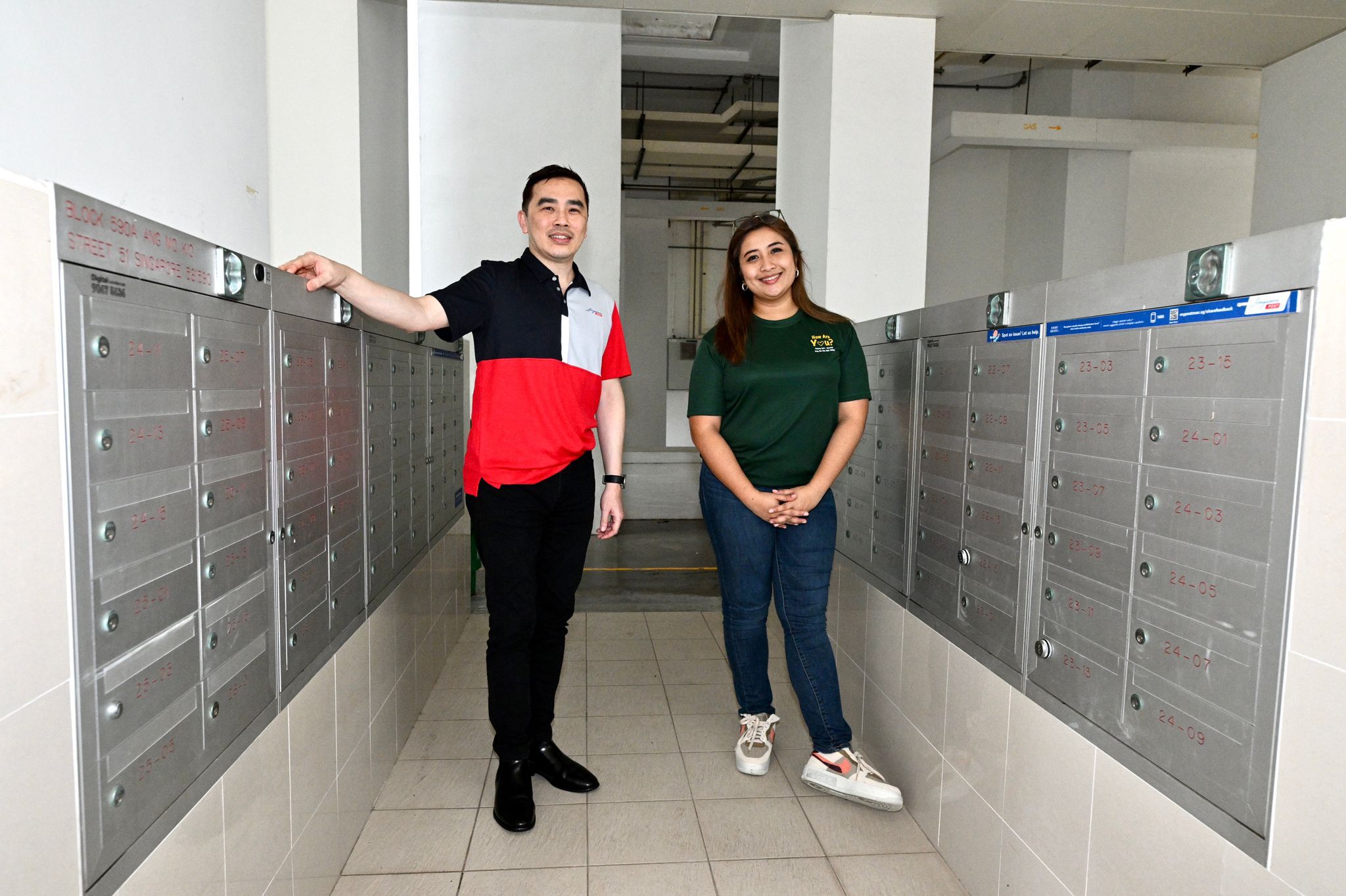 Singapore, 6 October 2022 – In conjunction with World Mental Health Day 2022, Singapore Post Limited (SingPost) will be lending its support to the raising of awareness for mental wellbeing. This move is aimed at garnering more focus on the importance of mental wellness due to the prolonged global COVID-19 pandemic and also a bid to mobilise community efforts in support of mental wellness.
SingPost employee volunteers as well as members from People Association's (PA) Cheng San - Seletar Constituency Office (CSSCO) distributed close to 700 mental wellness goodie bags to residents at three HDB blocks in Ang Mo Kio (Blocks 570, 590A and 590B) today. The goodie bag contents include a greeting card and some small items like stress balls or stretch bands.
These efforts are part of a wider initiative by CSSO to promote mental wellness among residents in the constituency, an initiative lead by Ang Mo Kio GRC Grassroots Organisations' Grassroots Adviser Ms Nadia Ahmad Samdin.
Apart from the goodie bag distribution, SingPost has also committed to a trial in monitoring mail volumes at the letterboxes of the same three HDB blocks within the Cheng San - Seletar Constituency. This trial which commenced in September 2022 and will last for a period of three months, involves getting postmen to monitor the letterboxes for irregularities in mail collection patterns of the residents, especially those who have not collected their mail in a long time.
The objective of this trial is to boost vigilance within the community – a change in mail collection pattern or an uncleared mailbox over a long period of time can indicate irregularity within a household, especially those belonging to senior residents. SingPost will alert CSSCO if they observe anomalies in resident's mail collection pattern and thereafter, CSSCO will send representatives to check on the wellbeing of residents.
Mr Koh Jin Kiat, SingPost's Senior Vice President for Customer Engagement & Commercial, SingPost, said: "SingPost has been serving the communities for generations, and we hope to continue bringing about positive impact – sometimes all it takes is a little more time and attentiveness to details. We are happy to support PA in their efforts to promote mental wellness as well as support the community in watching out for those in need."
About Singapore Post Limited
For more than 160 years, Singapore Post (SingPost), as the country's postal service provider, has been delivering trusted and reliable services to homes and businesses in Singapore. Today, SingPost is pioneering and leading in eCommerce logistics as well as providing innovative mail and logistics solutions in Singapore and around the world, with operations in 15 markets.
Building on its trusted communications through domestic and international postal services, SingPost is taking the lead in end-to-end integrated and digital mail solutions. The suite of SingPost eCommerce logistics solutions includes front end web management, warehousing and fulfilment, last mile delivery and international freight forwarding.