SUSTAINABILITY
Making every delivery count for people and planet
As a trusted organisation connecting people, businesses and communities for over 160 years, SingPost is committed to managing our business and resources sustainably to create long term value for our stakeholders.
At SingPost, we believe having a clear Purpose and strong Values is fundamental. A Purpose tells us the reason for our existence and our Values are ingrained principles that reflect our decision and are the essence of our identity.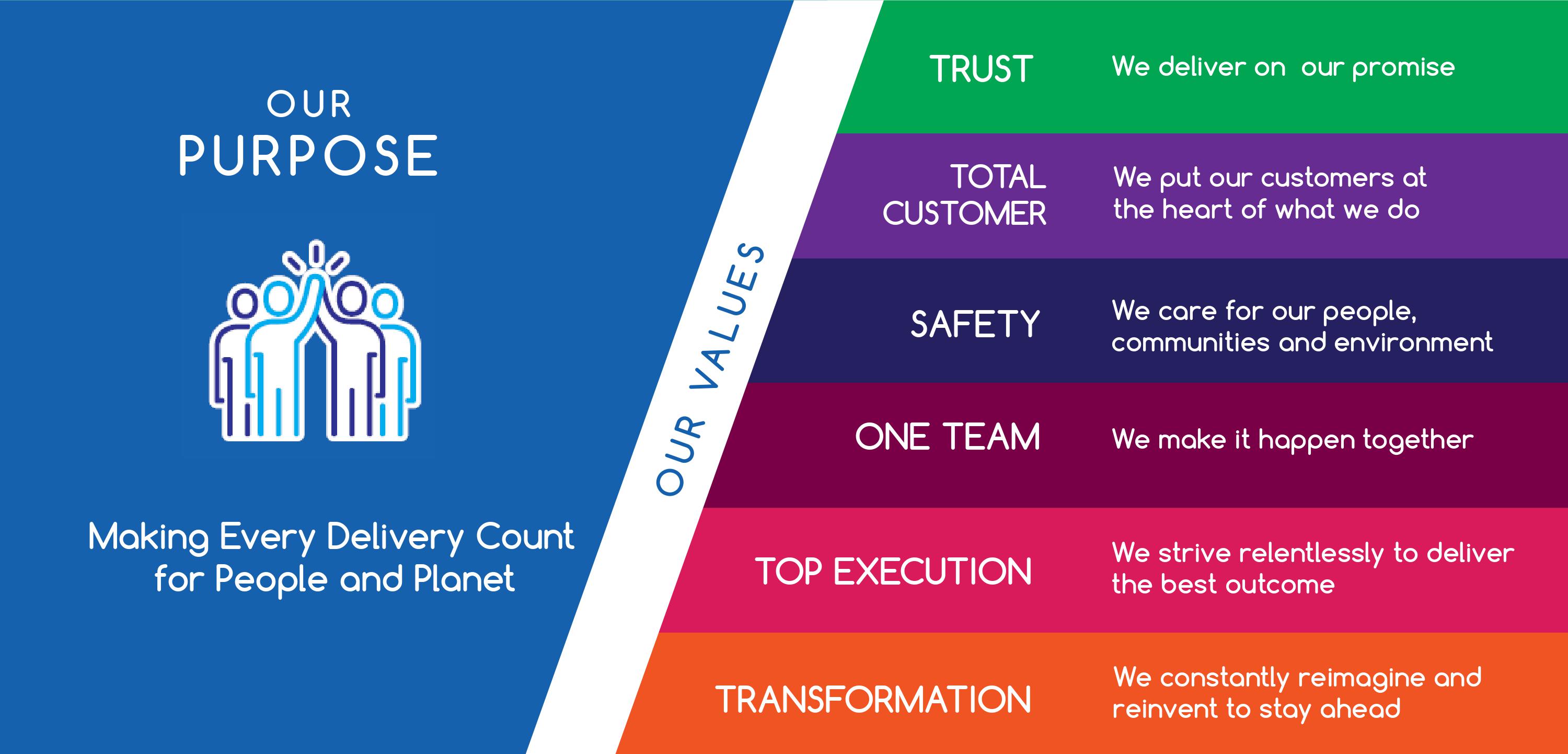 Sustainability at SingPost is delivered through our Sustainability Framework which aims to inspire and guide all our employees to make every delivery count for people and planet. We envision this to be achieved through three pillars: Cherishing our Planet, Collaborative Partnerships and Culture of Trust.
Each pillar and its associated material matters are additionally mapped to the United Nations Sustainable Development Goals (UN SDGs). In so doing, we aim to demonstrate our strong belief that everyone has a part to play in promoting global sustainable development and we too commit to that in the best way that we can.
Our Sustainability Framework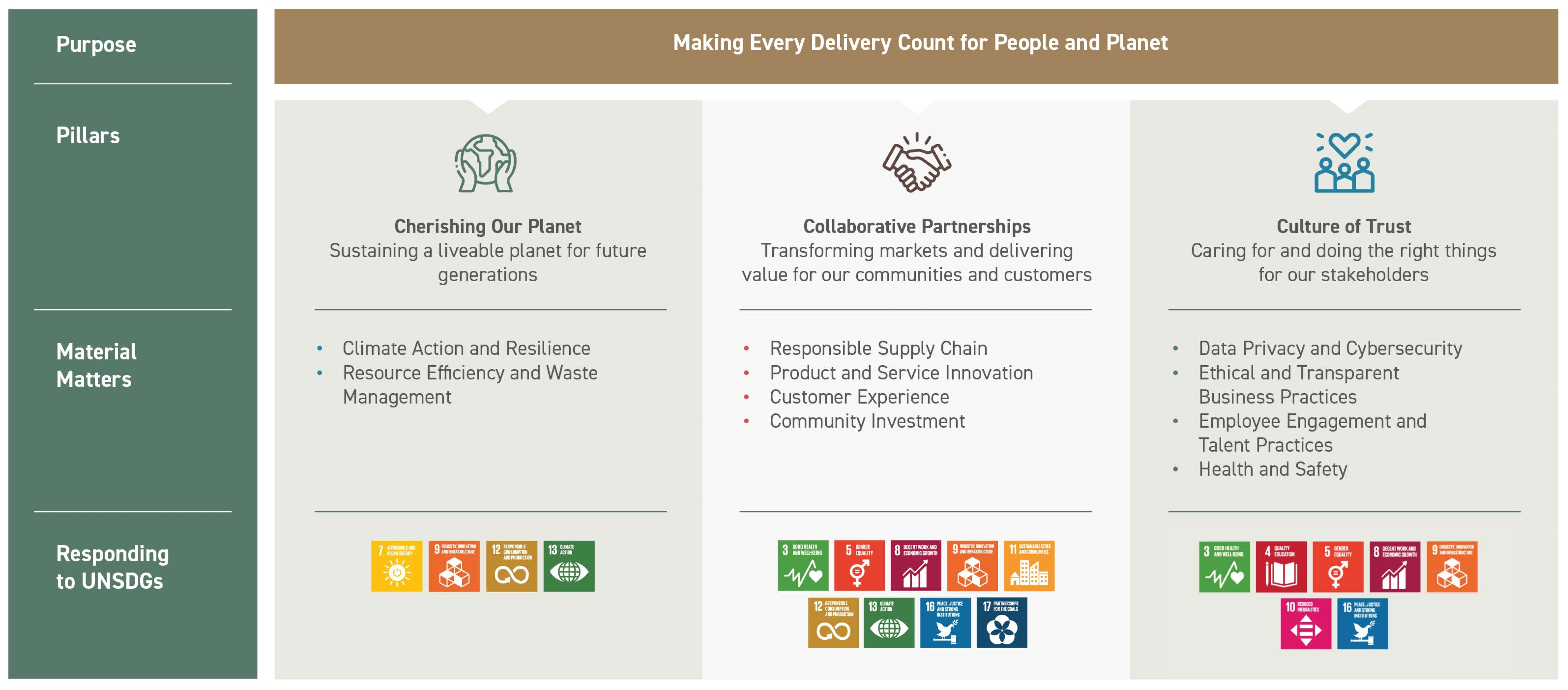 CHERISHING OUR PLANET
We care about sustaining a liveable planet for future generations
Businesses are in a position to deliberate positive contributions to the one planet that we have. SingPost takes a serious view on this and commits to effect positive outcomes for the environment in everything that we do as part of our business strategy.

Climate Action and Resilience
Leading the charge in transforming the future of postal services and eCommerce logistics, SingPost responds to the climate challenges of rising global temperatures and changing weather and rainfall patterns. Climate action will also present opportunities SingPost can tap into of which we will seek to integrate into our business strategy.
Read More

Resource Efficiency and Waste Management
We take pride in setting ambitious environmental targets and transitioning to a circular, low carbon economy. SingPost adopts the waste management hierarchy by not only addressing waste produced through reusing and recycling initiatives but also exploring innovative solutions and investing in infrastructure to tackle the issue at its source.
Climate Action Targets
We are committed to support global efforts in keeping global warming to below 1.5°C and have set new climate targets: to achieve net zero Scope 1 and 2 carbon emissions for Singapore by 2030 and global net zero Scope 1,2 and 3 carbon emissions by 2050. Different decarbonisation pathways are being explored for different markets across SingPost operations globally; and the following provides more information on our key emissions reduction measures.
Direct Greenhouse Gas Emissions ("GHG") from owned vehicle fleet and backup generators of properties SingPost has control over
Decarbonisation pathways explored include:
Electrification of SingPost's entire domestic delivery fleet by 2026
Delivery route optimisation to maximise fuel efficiency
Explore alternative fuels for backup generators of owned properties
Converting existing forklifts to electric versions
Actions to-date include:
SingPost has commenced the replacement of our internal combustion vehicles with their electrical counterparts. Members of the public can expect to see more SingPost electric three-wheeler scooters and vans in FY2022/23 as they are progressively commissioned for service.
Indirect Greenhouse Gas Emissions from the generation of purchased energy consumed
Decarbonisation pathways explored include:
Maximising energy efficiency of

Postal and eCommerce machinery operational efficiency and maintainability at procurement influencing design
Mechanical and electrical performance of SingPost-owned properties
Achieving energy savings and green building ratings progressively and where feasible

Introducing energy and resource efficiency as a condition of procured products and services
Maximising on-site renewable energy installations
Exploring renewable energy power purchase agreements (physical)
Actions to-date include:
SingPost Centre has upgraded some aspects of its mechanical and electrical infrastructure to be more energy efficient e.g. chillers, cooling towers
SingPost is also replacing its lights with Light Emitting Diode ("LED") versions at multiple sites.
Solar panels have been installed at SingPost's Regional eCommerce Logistics Hub at Tampines Logistics Park.
Other indirect Greenhouse Gas Emissions resulting from SingPost's business operations
Decarbonisation pathways explored include:
Gain visibility of scope 3 inventory to facilitate reduction strategy formulation
Achieving resource efficiency, reducing waste, and improving recycling
Using sustainable or recycled materials for consumable packaging and exploring reusable packaging
Seeking low carbon delivery options (e.g. vendors utilising sustainable aviation fuel, net zero/carbon neutral flights, low carbon/net zero transportation partners etc.)
Explore the implementation of green leases for tenancies
Minimising business travel or utilising lower emissions flight plans
Actions to-date include:
Introduced new smartpac packaging, which is made from recycled materials, and is recyclable as well
Added electronic waste to recycling initiatives at SingPost Centre
Green Building Committee set up at SingPost Centre, with members including tenants pushing sustainable initiatives around the building
Task Force on Climate-related Financial Disclosures (TCFD)
Since 2022, SingPost have adopted the recommendations from the TCFD to be incorporated into SingPost's climate action journey – to better understand our climate-related opportunities and risks and align ourselves to global standards of climate reporting. We have aligned our decarbonisation and climate action strategy around the four core TCFD pillars as illustrated below.
TCFD Disclosures
Our Current State
Next Steps

SingPost's governance around climate-related risks and opportunities

SingPost has in place a robust governance structure, with effective processes that ensure all businesses and support functions are regularly engaged with decisions revolving around sustainability matters through quarterly Board Sustainability Committee (BSC) and Management Committee (MC) meetings
The BSC provides oversight on sustainability matters at SingPost, while the Group Chief Executive Officer and Chief Sustainability Officer drives and coordinate Environmental, Social and Governance (ESG) efforts at a group-wide level
The MC provides input on sustainability matters related to the various business units and executes ESG efforts at a group-wide level. This includes targets and goals setting, climate scenario analysis with the relevant risks and opportunities, and compliance with sustainability-related regulations
Management incentives or remuneration are linked to ESG metrics, ensuring management accountability for the achievement of the organisation's goals
The Sustainability team is responsible for recommending ESG initiatives, collecting and analysing data, performance reporting, and communication
The Sustainability Framework is consistently applied to all businesses, including its subsidiaries

Continued Board oversight and MC involvement in reviewing climate-related matters such as climate scenario analysis, the associated risks and opportunities identified, and monitoring climate-related management plans
Ensure SingPost's governance structure remain a strong foundation to build resilience against climate-related issues

Impacts of climate-related risks and opportunities on SingPost's businesses, strategy, and financial planning

SingPost's business strategy and planning consider key climate-related risks in the long-term and ways to manage the impact on its operations
In FY2021/22, SingPost has updated its Sustainability Framework and refined its decarbonisation strategy in accordance with its net-zero targets
In FY2022/23, SingPost conducted its inaugural climate risk assessment across key markets (Singapore and Australia) to identify relevant physical and transition risks and opportunities under various climate scenarios and three time-horizons

Conduct climate-related risk assessment across remaining assets and markets to identify relevant physical and transition risks and opportunities under at least two climate scenarios. This will include understanding the impacts on SingPost's businesses, strategy, and financial considerations
Take a whole ecosystem approach as SingPost engages with its stakeholders across its value chain

SingPost's approach to identifying, assessing, and managing climate-related risks

SingPost's Enterprise Risk Management (ERM) framework serves to identify risk categories (including material ESG risks, risk appetites and tolerances)
Climate action and Resilience was added as a new material matter in SingPost's ESG considerations in FY2021/22
In FY2022/23, SingPost has embarked on a formal climate risk and scenario analysis assessment to better understand the climate-related risks and opportunities across its key markets (Singapore and Australia). Through this exercise, SingPost has identified the significant physical and transition risks that could adversely impact SingPost's assets operationally and financially. They have also implemented measures to mitigate some of the identified risks

SingPost has put in place internal shadow carbon pricing to help support long-term business planning and investment strategies and reduce its policy and legal related transition risk exposure to potential increase in carbon pricing. Additionally, SingPost has developed a carbon pricing projection model to determine the carbon prices under various scenarios.
SingPost has developed a Marginal Abatement Cost Curve (MACC) to assess the feasibility of potential mitigation measures and decarbonisation strategies based on the investment cost and cumulative emission reduction as an effort to reduce its technology-related transition risk exposure.

SingPost has updated its Group Environmental Policy Statement which outlines its commitment towards environmental stewardship with an enhanced focus on climate action and resilience. This is applicable to all its companies within SingPost Group.
SingPost has also refreshed its Supplier Code of Conduct to include and reinforce specific requirements for the Environment

Conduct climate-related risk assessment across remaining assets and markets to identify relevant physical and transition risks and opportunities under at least two climate scenarios. This will include understanding the impact on SingPost's businesses, strategy, and financial considerations.
Formalise climate-related risks in its ERM framework to further drive the organisation's climate resiliency
Continue to identify and introduce potential mitigation measures to reduce SingPost's climate-related risks and explore ways to leverage climate-related opportunities

Metrics and targets used to assess and manage relevant climate-related risks and opportunities

SingPost has set two key climate targets: net-zero (Scope 1 and 2 emissions) in Singapore by 2030 and net-zero (Scope 1, 2 and 3 emissions) across its global operations by 2050
SingPost currently discloses its energy consumption and Scope 1 and 2 emissions. SingPost has expanded its scope of coverage in FY2021/22 from Singapore to include its Australia and International operations where applicable, and newly disclosed environmental metrics on waste and water consumption
In FY2022/23, SingPost has started to embark on its Scope 3 emissions inventory development with a focus on Singapore and Australia operations (where information is available)

Continuously develop and disclose Scope 3 emissions inventory via a phased approach with an initial focus on key markets such as Singapore and Australia operations, and progressively for its International operations
COLLABORATIVE PARTNERSHIPS
We care about meaningful value creation through partnerships with our stakeholders
We live in an era of customer-centricity where our value chain is driven to be responsible, resilient, and innovative. This helps us to continuously deliver meaningful value creation to the people and communities we serve.

Responsible Supply Chain
SingPost continues to engage our business partners in the adoption of Environmental, Social and Governance (ESG) principles and commitment to responsible practices, developing resilience to emerging ESG expectations. Through this approach, we can influence the ecosystem that benefits multiple stakeholders for an industry uplift.

Customer Experience
Customers are our motivation, enabling us to achieve our business goals as we strive to go the extra mile in making every delivery count by providing a positive experience at every customer touchpoint.

Community Investment
We believe in giving back to our communities through impactful collaborative initiatives. As we continue to build on the trust of the community, we look to drive a positive change in society and touch the lives of people from all walks of life.
READ MORE ON COMMUNITY

Product and Service Innovation
At SingPost, we are fully embracing the new speed of digital transformations today, identifying new opportunities to increase productivity, efficiency in our business operations, and enhance interaction with our customers, all in a bid to enhance product and service offerings for our stakeholders

CULTURE OF TRUST
We care about doing the right things the right way for our stakeholders
We recognise that our success would not be possible without the trust of our stakeholders and our people's commitment to excellence. Underpinned by the highest standards of corporate governance, we adopt best-in-class practices that reflect our obligation towards accountability, transparency and safeguarding our stakeholders' interests.

Employee Engagement and Talent Practices
Our employee engagement and talent practices form the bedrock of our pursuit in accomplishing our business objectives. We believe that investing and developing our people's talent through our comprehensive practices will prime SingPost for continuous growth in the new era.

Health and Safety
At SingPost, we conduct our business with great focus on the health and safety of our employees, and stakeholders including the communities we serve. Our approach promotes proactive identification and mitigation of potential occupational accidents and inculcating a safety culture in our employees to minimise safety hazards and to look out for one another.

Ethical and Transparent Business Practice
We believe transparency is the basis for trust, and our zero-tolerance stance for fraud, corruption and unethical actions enables open lines for communication and honesty with all our stakeholders – within and outside of SingPost. Our core values foster and underpin a culture of openness, trust, and accountability.

Data Privacy and Cybersecurity
At SingPost, we have consistently taken imperative steps to protect our stakeholders' personal data with the best in industry standards, policies, procedures and cybersecurity measures.
Resources and Related Links