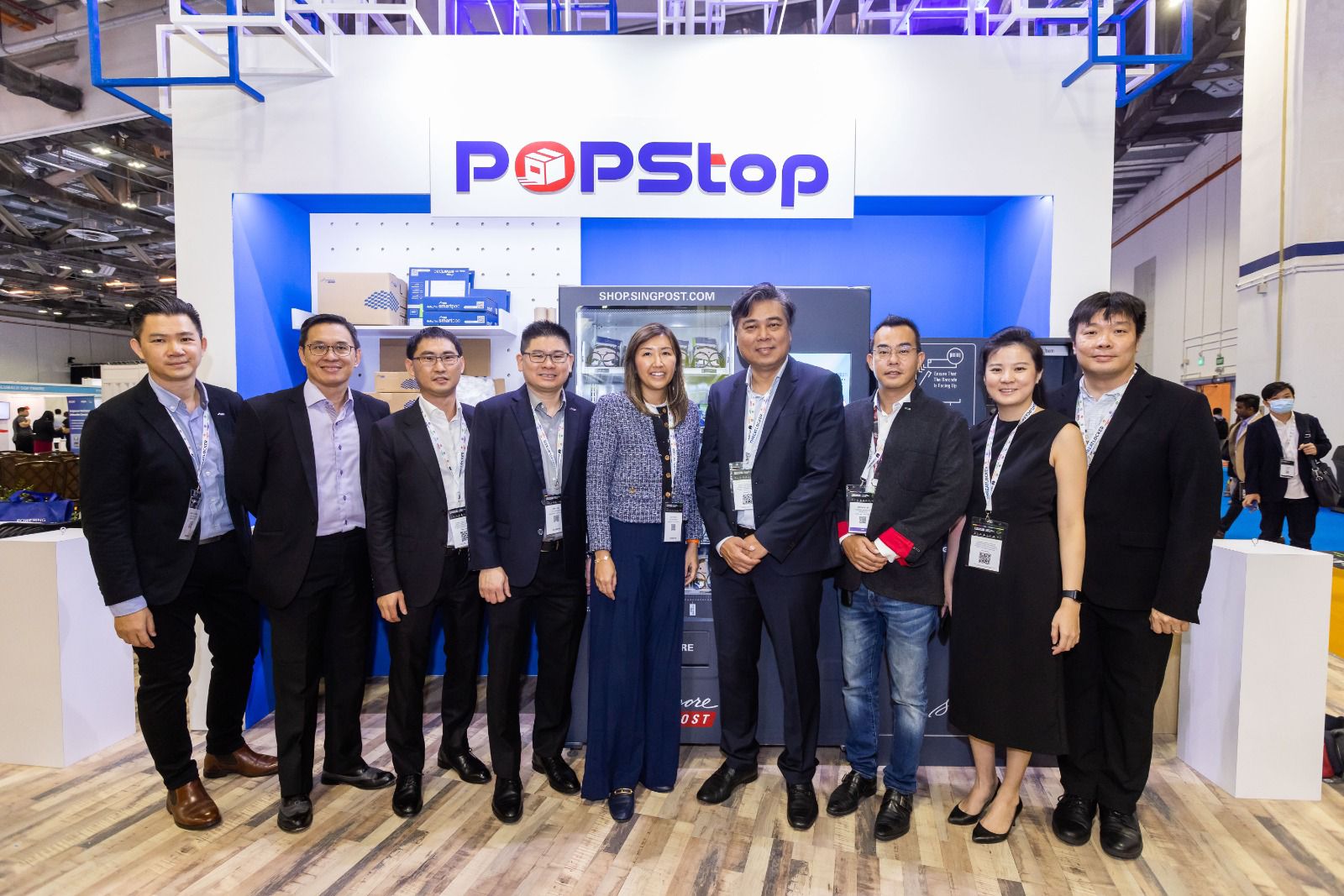 Singapore, 12 October 2022 – – Singapore Post Limited (SingPost) and Stellar Lifestyle, a business arm of SMRT Corporation Ltd, signed a Memorandum of Understanding (MOU) to set up new service stations at select MRT stations for small businesses, marketplace sellers, and entrepreneurs to drop off eCommerce shipments and other parcels. Consumers will also be able to pick up deliveries from these service stations in time to come.
The service stations, called POPStop, was unveiled today by SingPost and Stellar Lifestyle at the eCommerce Expo Asia, held at Marina Bay Sands Convention Centre.
A departure from the conventional post office, POPStop is a dedicated facility for eCommerce parcel-related transactions, including the lodgement of parcels and eCommerce returns. POPStops is planned to be located at transit properties managed by Stellar Lifestyle. POPStop will offer consumers and SMEs added options for pick up and drop off when they need to send, receive, or return parcels.
By making collection and returns services accessible along daily commute routes, POPStops will provide unparalleled convenience and ease to consumers – this will be further complemented by the rest of the SingPost network, including post offices.
SingPost and Stellar Lifestyle aim to enhance the lives of consumers through leveraging the extensive network each party operates. Consumers are always looking for fuss-free services that fit their hectic lifestyles, and this is the same expectation they have for eCommerce. This collaboration will enhance customer experiences and satisfaction.
POPStops will be manned by SingPost staff to accept parcels and packages, including SmartPacs, during their operating hours. Packing materials will also be available at POPStops for added convenience for individuals and businesses to pack their items before shipping.
The establishment of POPStops also supports the reduction in carbon footprint of parcel deliveries through the rationalisation of the first mile. This move will contribute towards the building of greener communities in Singapore and encourage more consumers to cultivate sustainable habits in their daily lives.
Ms Neo Su Yin, Chief Executive Officer, Singapore, SingPost, said: "Convenience and ease of doing business are essential in the eCommerce sector - for sellers to be able to drop off their packages easily and in a timely manner; and for consumers to have that added option when it comes to their deliveries. This collaboration with Stellar Lifestyle is not only a step towards growing our customer touchpoints and footprint across the island, but also an elevation of our service offerings. We look to make every delivery count for our people and planet."
Mr Tony Heng, President of Stellar Lifestyle said, "We want to provide greater convenience and more services for our commuters, many of whom are already active users of e-commerce. With SingPost's POPStops, we are creating an agile and innovative ecosystem between our commuters and retailers, especially for Small & Medium Enterprises."
About Singapore Post Limited
For more than 160 years, Singapore Post (SingPost), as the country's postal service provider, has been delivering trusted and reliable services to homes and businesses in Singapore. Today, SingPost is pioneering and leading in eCommerce logistics as well as providing innovative mail and logistics solutions in Singapore and around the world, with operations in 15 markets.
Building on its trusted communications through domestic and international postal services, SingPost is taking the lead in end-to-end integrated and digital mail solutions. The suite of SingPost eCommerce logistics solutions includes front end web management, warehousing and fulfilment, last mile delivery and international freight forwarding.
About Stellar Lifestyle
Transit Retail & Advertising Solutions
Stellar Lifestyle, a business arm of SMRT Corporation Limited, has expertise in property and retail management, media, and digital advertising solutions. We create vibrant transit destinations and lifestyle experiences to make our everyday touchpoints better. Our growing portfolio includes mall management and outdoor media & digital engagement platforms. We are also the largest managing agent of retail and advertising spaces in Singapore's rail network.