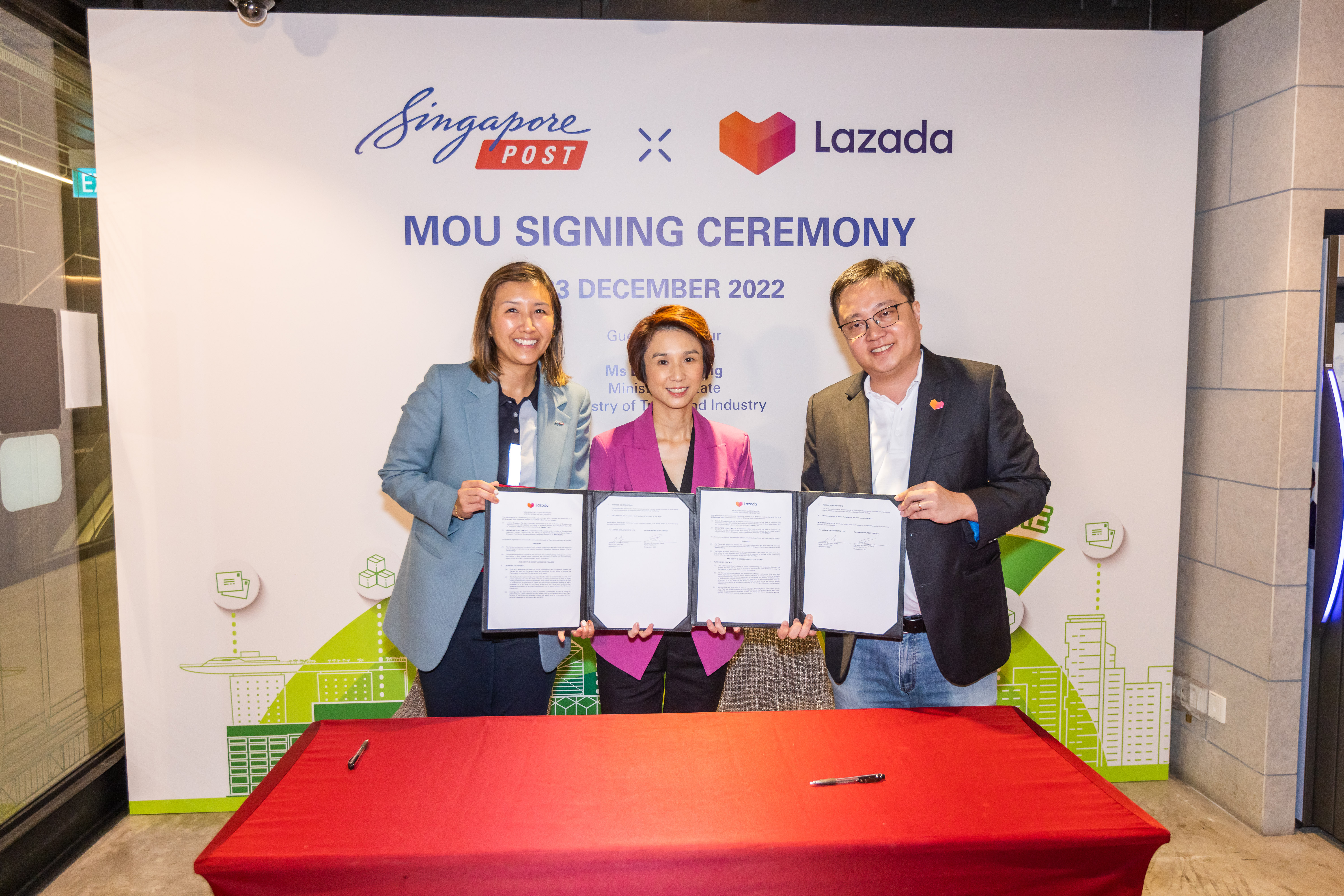 Singapore, 23 December 2022 – Singapore Post Limited (SingPost) and Lazada Singapore signed a Memorandum of Understanding (MOU) to empower adoption of carbon efficient delivery options by consumers, small businesses, marketplace sellers, and entrepreneurs. The event was held at the General Post Office and witnessed by Minister of State Low Yen Ling. Through this collaboration, Lazada merchants and consumers can look forward to the use of SingPost's eco-friendly first-mile, last-mile and reverse options starting from April 2023.
This collaboration will see SingPost offering a more comprehensive suite of carbon efficient first-mile options, such as the innovative POPDrop that was unveiled today at the MOU signing ceremony. The newly developed POPDrop, an automated self-service drop off box fitted with in-built trackability and RFID technology, will enable merchants to ship with end-to-end tracking capabilities. The POPDrop, together with the existing network of POPStations, can be used by Lazada's merchants and customers for their shipping and return needs respectively. Both the POPDrop and POPStation are more carbon efficient compared to doorstep collection, as delivery staff are delivering and retrieving parcels at a singular point as opposed to going door to door, this operation will progressively be performed with electric vans to further reduce carbon emission.
With the rise in eCommerce adoption in the last two years, shoppers are now purchasing more high-end items and both the POPDrop and POPStation offer a secure way for sellers to drop-off items like tablets, smartphones and designer goods, subject to size restrictions. Sellers can ship valuable items using these options worry-free, with the confidence that customers can track and receive them easily.
Letterbox, POPStation and Parcel Santa locker delivery options will be made more readily available, giving Lazada sellers access to more drop-off points to deposit eCommerce parcels while consumers will have more choices to collect parcels at their convenience. Given that each Postman is able to deliver to the singular point of a Letterbox nest at high rise residentials or offices, and similarly a Courier is able to deliver to the singular point of a Locker while concurrently retrieving items, both these operations are highly productive and carbon efficient.
As industry leaders, SingPost and Lazada share the goal to reduce the environmental impact of first-mile, reverse and last-mile services as the eCommerce industry continues to grow and customer eCommerce purchases broaden. The unveiling of the POPDrop to complement SingPost's existing suite of solutions and boosting the adoption of carbon efficient deliveries for both merchants and consumers is the first step towards a concerted push in setting new standards for the eCommerce and logistics industries to follow.
SingPost is well on target to achieve the electrification of its fleet by 2026, further augmenting the carbon efficient first-mile, reverse and last-mile operations. Hence, SingPost is on the trajectory to being the most carbon efficient logistic service provider, with pervasive first-mile and reverse logistic drop-off touchpoints like the POPDrop and POPStation, enabling last-mile deliveries into letterboxes and lockers.
Ms Neo Su Yin, Chief Executive Officer, Singapore, SingPost, said: "Lazada is a like-minded partner that we are very heartened to be working with to boost the adoption of carbon efficient deliveries in Singapore. SingPost has been exploring ways to build a sustainable business and one that brings about positive change. We are hoping to drive efforts on this front with more partner collaborations to effect change at a faster pace."
Mr Loh Wee Lee, Chief Executive Officer, Lazada Singapore, said: "Lazada and SingPost are long time partners and we are pleased to be the first to work with SingPost to adopt new and efficient technologies that will improve the shopping experience for both customers and sellers. Adoption will not only be more environmentally friendly, it will also offer another convenient delivery option to suit their needs. The benefits of decentralized points to drop off and pick up parcels is scalable and more efficient, speeding up the delivery process and serves a need as more and more customers are using eCommerce for their everyday purchases."
###
About Singapore Post Limited
For more than 160 years, SingPost has been delivering trusted and reliable services to homes and businesses in Singapore. Today, SingPost is a leading eCommerce logistics player in Asia Pacific, providing innovative mail and logistics solutions in Singapore and around the world with operations in 15 markets, making every delivery count for people and planet.
Building on its trusted communications through domestic and international delivery services, SingPost offers best-in-class eCommerce logistics solutions, from warehousing and fulfilment, last mile delivery and international freight forwarding.
About Lazada Group
Lazada Group is Southeast Asia's pioneer eCommerce platform. For the last 10 years, Lazada has been accelerating progress in Indonesia, Malaysia, the Philippines, Singapore, Thailand and Vietnam through commerce and technology. Today, a thriving local ecosystem links about 160 million active users to more than one million actively-selling sellers every month, who are transacting safely and securely via trusted payments channels and Lazada Wallet, receiving parcels through a homegrown logistics network that has become the largest in the region.
With a vision to achieve USD100 billion annual GMV, Lazada aims to serve 300 million shoppers by 2030, and be the best at enabling brands and sellers in digitalizing their businesses.
In 2022, the Lazada Foundation was set up to empower youths and women for the digital future, close the gender digital divide and uplifting communities by creating positive impact. More information can be found here https://group.lazada.com/en/foundation/.