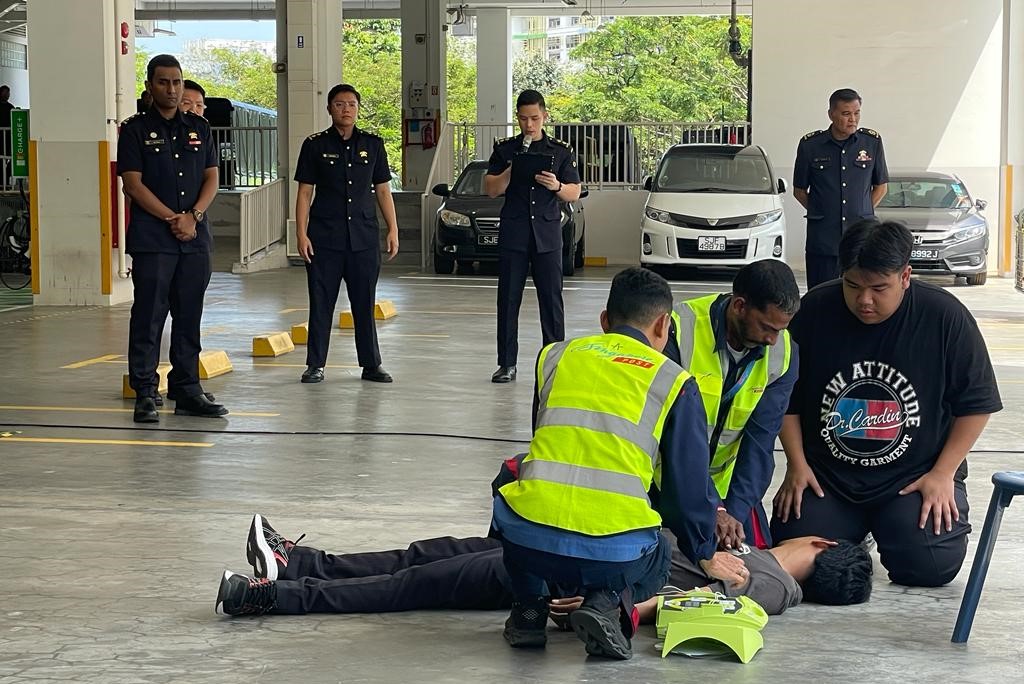 The Singapore Civil Defence Force (SCDF) – Singapore Post Limited (SingPost) Automated External Defibrillator (AED) -on-Wheels programme was officially launched by Associate Professor Muhammad Faishal Ibrahim, Minister of State, Ministry of Home Affairs & Ministry of National Development, on 13 March 2023.1
Launch of the SCDF – SingPost AED-on-Wheels programme
The SCDF – SingPost AED-on-Wheels is the sixth partnership utilising vehicles, and the second company from the logistics and courier service industry to join the programme. SingPost will contribute 25 vehicles to the programme, consisting of 11 vans and 14 three-wheeler bikes, equipped with AEDs and First Aid Kits provided by Temasek Foundation. These vehicles will also be equipped with fire extinguishers provided by SingPost.
SCDF has conducted training for 25 SingPost drivers on how to perform CPR, apply first aid, as well as use a fire extinguisher and an AED through the Community Emergency Preparedness Programme (CEPP). 2 3
About the AED-on-Wheels programme
The AED-on-Wheels programme equips vehicles on the move with AEDs, in support of the SCDF's Save-A-Life initiative.4 This increases the availability of roving AEDs within the community to proceed to a location of a cardiac arrest victim and administer AED, thereby increasing the victim's chances of survival.
The programme was first piloted in November 2015, in a partnership between Temasek Foundation, SMRT Taxis and Singapore Heart Foundation, where 100 taxis were equipped with AEDs and drivers were trained to be community first responders to respond to out-of-hospital cardiac arrests. Following its success, the programme was expanded over the years with the following partners:
November 2019 : 50 AED-equipped taxis under the HDT Singapore Taxi – Singapore Heart Foundation AED-on-Wheels programme5;
January 2021 : 50 AED-equipped Private Hire Vehicles (PHVs) under the SCDF – Grab AED-on-Wheels programme;
August 2021 : 50 AED-equipped taxis and 10 Medcare minibuses under the SCDF – ComfortDelGro AED-on-Wheels programme;
July 2022 : 50 AED-equipped delivery vehicles under the SCDF - Ninja Van Singapore AED-on-Wheels programme; &
February 2023 : 50 private citizens' vehicles under the SCDF – Temasek Foundation "Enhanced AED on Wheels" programme.
Participating drivers are trained to conduct CPR and will be alerted via the SCDF myResponder app to any cardiac arrest incident within a 1.5km radius of the vehicle's location.
As of January 2023, 148 drivers under this initiative arrived at the scene for suspected cardiac arrest and minor fire cases.
Quotes from SCDF and SingPost
---
"SCDF is thrilled to welcome SingPost on board the AED-on-Wheels programme and expand the availability of roving AEDs across Singapore. We hope that this collaboration continues to create a ripple in the community and encourage more people to step forward as Community First Responders and partner the SCDF in building a Nation of Lifesavers."
COL Wesley Lim
Director, Volunteer and Community Partnership Department, SCDF
---
"SingPost is proud to be part of this purposeful initiative to bring positive impact to the community. Together with SCDF, we are equipping our staff with essential lifesaving skills and extending the network of life-saving resources in Singapore. SingPost is committed to supporting the community that we serve."
Ms Neo Su Yin
Chief Executive Officer (Singapore), Singapore Post Limited
Issued by:
Corporate Communications Department
Singapore Civil Defence Force
Monday, 13 March 2023
---
1 Automated External Defibrillator (AED) is a portable device that checks the heart rhythm and sends an electric shock to the heart to try to restore a normal rhythm during a cardiac arrest.
2 Cardiopulmonary resuscitation (CPR) is an emergency procedure that combines chest compressions with artificial ventilation to manually provide blood circulation and preserve brain function in a person with cardiac arrest.
3 CEPP focuses on core lifesaving skills and essential emergency procedures with emphasis on practical hands-on engagements to allow participants to apply what they have learnt to help others during emergencies.
4 SCDF, in collaboration with Ministry of Health, Singapore Heart Foundation and People's Association, introduced the Save-A-Life Initiative in 2015 to enhance community first response to cardiac arrest cases in the residential heartlands.
5 HDT Singapore Holdings said in a joint media release with the National Taxi Association on 27 November 2020 that it will shut its business. The 50 AEDs sponsored by SHF that were equipped to HDT Singapore Taxis were redeployed to ComfortDelGro Taxis.